IT Consultant Savvy--Tips for Success with New Small Business Clients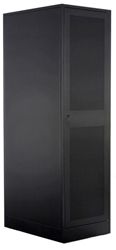 by TechRack Systems
As small businesses make the leap toward improved operations, they turn to IT contractors to help them develop solutions that support business growth. Despite the prevalence of technology in the business world, many budding entrepreneurs do not know how to make these utilities work for them. After all, they focus on their own craft, which means that they need logistics solutions that are affordable, easy to understand, and that integrate effortlessly into their operations. As an IT consultant, here are some ways you can help your small business clients better understand their network and IT needs:
Assess their level of understanding about the equipment and processes they need. You never want to "dumb down" information to a client, but you want to help them fully understand what equipment, software, subscriptions, and/or other utilities that will make up your technology plan for their business.
Help them plan for the physical location of equipment. For example, explain why server racks need to be located in a central location for easy cabling, but away from walls with plumbing pipes.
Ask them about their goals and future expansion plans. You certainly don't want to set up a system that will become outdated quickly. You can advise them on when and how to invest in certain products. If you foresee that they will add servers in the near future, they should purchase network racks and computer cabinets with that in mind.
Be very clear about costs so their expectations remain on par with what you are promising. For example, if you offer a certain number of hours or service calls as part of a system setup/troubleshooting, be upfront about that. Some clients will misinterpret what is included with your services unless you provide detailed information beforehand.
Adjust your own expectations. Your less-than-tech-savvy clients will treat you similar to a medical provider in those initial weeks. They will be demanding, every issue will be an emergency, and they expect you to drop everything and run at the drop of a hat. Know your own limits so that you strike a balance between above-and-beyond provider and bad business doormat.
TechRack Systems helps IT consultants by providing smart technology storage solutions, including server enclosures and more. We want to help you help your small business clients. To learn more,contact us today!