Contractors, You're Not Alone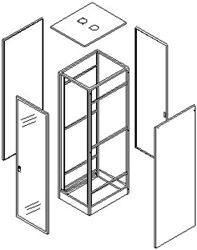 by TechRack Systems
Contractors, we feel for you. Too often, you're stuck doing all of the heavy lifting, and you're rarely around to bask in the hum of a precisely constructed network doing exactly what it's meant to be doing. Few will ever realize, let alone appreciate, the several small miracles you needed to pull off in order to reach that point. Under that deadline. But we do, because independent IT contractors like yourself are our partners.
Imagine how much better your calendar would look if all your concerns about sourcing and shipping equipment were removed. We specialize in providing quick solutions with well-crafted products that are compatible with the latest offerings from Dell, HP and APC, among others. Need to rack-mount an entire LAN, lab or computer center? Look no further. Our heavy-duty steel server cabinets are designed with perforated doors that maximize the airflow generated by the 1U, 2U and 3U self-cooling servers. Are your contracts mounting up? Buy in bulk. We offer volume discounts. Faced with an especially intricate project? We'll build your server cabinet and racks according to your specs and components.
Consider TechRack one-stop shopping.

From computer racks to KVM switches to the humble wire rack (ours are robotically welded, making them 25 percent stronger than the industry standard), scroll, click and it's shipped, freeing you up to get back to the real work (or not). Gone are the fruitless hours of searching, then questioning the quality, then holding your breath over the turnaround.
What we can offer beyond a deep and diverse inventory of IT and data storage solutions is an attentive partner who's as interested in fostering a long, loyal relationship as you are in meeting your next impossible deadline. We've helped outfit some of the largest companies, but, oftentimes, it's through the contractors that we see the most dramatic innovations. Contact a TechRack representative, and allow us to help unleash your imagination.