IT Equipment Storage on a Tight Budget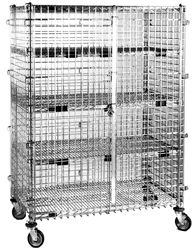 by TechRack Systems
If money were no object, work likely would not have been one of our first thoughts when the alarm sounded this morning. And we'd probably roll up to our offices in customized European sports cars. If we bothered to go into the office at all.
Likewise, building a network with an ample budget is a very different experience from piecing one together with constant constrictions. The great majority of us are far more familiar with the latter than we are the former. So while it's nice to daydream about a dedicated control room—no, control floor—tricked out with whirring rows monstrously powerful machines housed in Enterprise cabinets and customized server enclosures, this is what a more practical (read: cost-efficient) guide to data storage looks like.
When we write wire racks, your mind probably goes to those just-sturdy-enough pantry set-ups sold at big-box stores and the like. It's hard to imagine them holding anything as precious (and heavy) as computers and servers. And that's because they can't. Our network racks can, because they're a different animal. Crafted from heavier wire and robotically welded, the can bear up to 2,400 pounds, which is not only on par with our server cabinets, it's 25 percent stronger than the industry standard.
Better still, they offer a broad range of versatility, between stationary and mobile models, and shelving depths that run from 18 inches to 30. All that and they start at under $250.
You're not even sacrificing security. Our line of security wire data racks are outfitted with two-inch by two-inch, chrome-finished wire grid and locking doors.
Additionally, our preconfigured heavy-duty LAN server racks and work stations feature two 20-inch-deep server shelves and a 26-inch-deep bottom rollout shelf, each capable of bearing up to 450 pounds. They range in width from 24 inches to 72, which, along with their start-up friendly price tag—they begin at under $800—makes them the ideal solution for a purely customized (and evolving) set-up.
Being thrifty shouldn't leave you wanting for anything. Regardless of how minimal your budget may seem, you'll find options that will fulfill every one of your priorities—size, capacity, flexibility, security. It's just a matter of looking in the right place. More good news: You've already found it.