A Guide to Server Cabinets—What's Right for Your Budding Network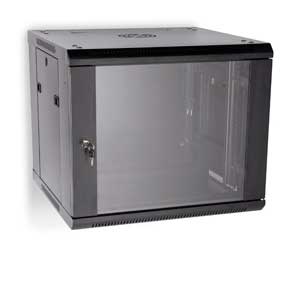 by TechRack Systems
Pinpointing the server was supposed to be the hardest part of piecing together your new network. Then you started searching for server cabinets, and yet another vast, unknown world began to fill your screen. But once you've got your server, figuring out your storage options will follow a logical path.
Start with size. You'll need a server enclosure that'll comfortably fit your set-up and then some, ideally. As your business grows—and that's the goal here, right?—your network needs will, too. You'll save yourself a lot of time and trouble by thinking through that next phase now, as much as possible.
You'll need to take into the consideration the size of the space you're working with, too. Those two sets of dimensions are your baseline. If you don't have a dedicated room, think small and versatile. Our lineup of small server cabinets, which range from 12" to 36" tall (or 6U to 18U), are freestanding units that can sit atop a table or below a desk. If walls are your most available surface, check out our line of wall-mounting server cabinets, range from 6U to 18U.
Our inventory of large server rack enclosures (48" to 84", or 23U to 44U) will meet your every need, as long as you have the room for them. The TechRack Corporate Cabinet line features a fully welded steel frame that'll support a 2,000-pound load. The Enterprise collection, our strongest, can bear 2,500 pounds. Both are compatible with 19-inch rack-mount equipment from all major manufacturers.
CoLocation network cabinets are your one-size-fits-all option, because of their versatility. At 84 inches (44U) tall, they can be divided into two or three separately locking and ventilated compartments.
If your server or space needs exceed the preconfigured-cabinet range, we also offer the option to build your own from scratch. Tell us what you're looking for, and we'll design the cabinet according to your specs.
Now that you've narrowed the field, start considering what features you'll need: perforated doors, Plexiglas doors, locking doors, an open base. At this point, your needs will likely fall into two categories, those you're aware of and those you're not. For help anticipating the latter, contact a TechRack representative.