Security Shouldn't Be an Afterthought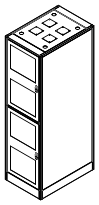 by TechRack Systems
When breaches are part of doing business, security should come standard.
Whether you're charged with planning a server room, a closet or even making the most out of a small nook in the office, storage, organization and ventilation are likely to be foremost among your considerations. (Maybe aesthetics, too, if you're especially meticulous) Noticeably absent from that list: security. The room/closet/office has a locking door. So why would you need to add any more beyond that? Because, increasingly, locking up servers and other equipment that contains sensitive data is required by law.
Before that cresting wave of anxiety sweeps you up, take a deep breath. Turns out, you've been looking in the right places all along. Those heavy-duty server enclosures you were eyeing up because they meet all of the important industry standards and they come tall enough to afford you some room to grow, they also meet HIPAA and every other industry security requirement.
Our Corporate network computer cabinets are constructed from a fully welded carbon steel frame. The front door, which locks, is available in Plexiglas and perforated metal. The rear, perforated-metal door all the better for airflow also locks. With a load capacity of 2,500 pounds, our Enterprise line is even stronger. It, too, is constructed from fully welded carbon steel frame and features front- and rear-locking doors.
Going a step further, each compartment in our CoLocation computer cabinets locks separately, front and back. (Split rear, locking doors are also available.)
You don't need to go big to find impenetrable security. Our small server cabinets and wall-mounted units are made from the same steel, and both feature locking front doors. The cabinets also include locking rear doors. The wall units have a locking rear section.
For us, security comes standard, even if it remains an option for other suppliers. We live in an age when data breaches are part of doing business. Even where it's not required, locking up your expensive computer equipment and the precious data it contains can only be thought of as the sensible decision. For more on how to bolster your defenses, contact our sales staff.