Ensure Your Server Rack Cabinet Order is Correct – Part 2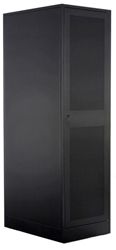 by
TechRack Systems
We are continuing our discussion of things you need to do before you order computer cabinets and server racks.
#6 Know the Codes
Not the programming kind—rather the ones you research in your city and state, including the building and electrical codes. These include infrastructure requirements such as power, A/C, space, sound, and environmental factors. Additionally, check corresponding load factors and construction of the computer cabinets. Check product certifications and any other information that could affect your order, such as country of origin, seismic rating, and UL listing. If you don't go through this process, you run the risk of receiving a product that doesn't meet required specifications or data center needs, you could end up returning equipment or adding on costs, or both.
#7 Research Vendors
It is not recommended to pick the first supplier you find. Take the time to evaluate if the vendor provides quality products, competitive pricing, and that the products you need are readily available. Get references on customer service by checking online resources and talking to colleagues at other companies. Also ensure that your vendor has extensive knowledge of server equipment (not a general background in data centers or computer technology), and can partner with you to help make the best purchasing decisions for your requirements and budget.
#8 Take Part in the Ordering Process
Leaving the order process up to a purchasing department could leave you open to mistakes and issues down the road. The organization may do a great job of filling out the paperwork, but the IT department knows exactly what is needed. Be sure to have your IT professional review the specs and, ideally, place the order. Be sure to obtain pre-approval for the space allocation and expenditure for the server rack, even for the small server equipment enclosures.
#9 Logistics Matter (A lot)
Sometimes details of the purchase can get overlooked, particularly in product receiving—the key to closing the loop. Providing the supplier with all relevant information for your company delivery process when ordering will ensure smooth equipment receiving. This could include making the vendor aware you have a dock, need a lift gate truck, the office hours for delivery, or that the equipment is going to a secured location, such as a government facility. Make sure to provide all applicable phone numbers, contact information, and details that may seem obvious but could cause issues if not handled upfront.
#10 Special Requests? Done!
Don't forget about customization—you might have air filtration needs, noise dampening requirements, casters, ventilation fans, cable management, shelving, or other features that may be critical to include. Do extensive evaluations before you close the order loop. Conversely, if after all of your searching, you still can't seem to find the right cabinet or rack for your specific requirements, there's a solution for that: You can build your own cabinet. TechRack Systems offers this unique service. Custom, hard-to-match cabinet components can be added to meet your precise needs down to each individual accessory.
Buying server equipment is not as straightforward as it seems. Going through a systematic process every time will help. For questions about your data center server cabinet needs, visit our website or contact us at sales@techrack.com or 888-266-3577.