Server Racks—A Cautionary Tale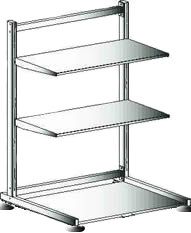 by TechRack Systems
So you're in the market for a server rack (or, better yet, server racks). As with the delicate IT devices they're built to house, the evolution of racks has been rapid, from their construction to the almost-limitless range of their dimensions to their engineering. While budget is, rightfully, a primary consideration, now is not the time to seek out a bargain on Craigslist or to accept a friend's secondhand network cabinet. Money seemingly saved now will almost certainly come back to haunt you (read: cost you) in the near future. Allow us to count the ways.
Sure, it looks sleek (if you're into that kind of thing, which we are), but will you be able to use it? In all likelihood, no. Mounting systems have evolved with the technology, and replacement components aren't easy to come by, assuming the systems are still functional. Our heavy-duty server cabinets come with adjustable, vertical-mounting rails that can accommodate any manufacturer's latest 19-inch, rack-mount equipment.
Airtight isn't a good thing here. The savviest servers today have built-in fans to keep them cool. (Kudos to you if you've made such a purchase.) But that engineering feat accomplishes little without a complementary enclosure. Our models feature perforated doors that help maximize that airflow.
Think big. Or, bigger, at least. Taking this step, laying the foundation of your network, is not an insignificant one. Nor is it your endgame. Yes, you may only need an 18U-tall cabinet right now, but if things go according to plan, you should be doubling that capacity before long. And when that time comes, you don't want your storage to be maxed out. Buy with one eye on the near-future.
Don't forget to lock the door. Wait, your secondhand cabinet doesn't lock? So you're filling it with the most sophisticated server money can buy and you're just going to, what, hope that it and all that precious data it contains isn't breached? Even if yours isn't one of the industries that's required by law to lock up its server enclosures, you can never be too safe in this age. All of our equipment meets HIPAA security standards.
No matter how modest your plans or ambitious your goals, we'll ensure that your technology storage needs are met with a thoughtfulness and a thoroughness. In other words, you won't need to worry about any of the above. Contact a TechRack representative to start planning.