Technology's No Longer Conforming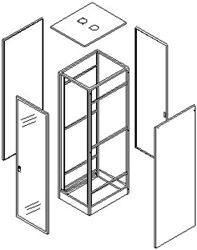 by TechRack Systems
Technology's No Longer Conforming
Only a decade ago, our bulky laptops and squat desktops required at least two hard-wire connections, one to a power source and another to a modem. Chances are, you were wired to a printer, too. In exchange for accessing all kinds of knowledge and entertainment (mostly entertainment) and connecting instantaneously with everyone else, we happily handed over our freedom. But, gradually, that same force that held us captive has liberated us. Aside from plugging in on occasion to restore our batteries, we've shed most of the wires. And our devices not only talk to us, they talk to each other. We marvel now, not at what lies at the other end of a click or a swipe, but at how we can reach it from the middle of nowhere. With that kind of incredible versatility, why are we still treating our server cabinets as one-size-fits all?
No two computer rack set-ups are alike. Sure, you want to make sure to give your hardware a little room to breathe, literally and figuratively, but inevitably, you're going to encounter a situation where the available network racks are too much of a compromise, either for the space or the servers themselves. With technology becoming more agile by the moment, it's perfectly reasonable to expect the same of its storage, which is why, in addition to our deep and diverse inventory, we also offer the opportunity to build your own data cabinet.
From the dimensions to the components and accessories, design the storage solution for your particular needs, whether they're computers, servers, data systems or telecom equipment. Have an idea, but you're not sure how to execute it? We're happy to lend our expertise. It's time to start thinking like the technology we're employing: Almost anything is possible. Ask the experts at TechRack Systems.