In an Uncertain Future, Versatility is King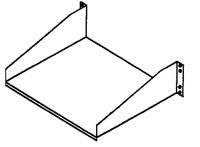 by TechRack Systems
Allow us to introduce you to the versatile world of Relay Racks.
Constructed of heavy-duty steel uprights and heavy-duty aluminum angles, Relay Racks, also referred to as Telco Racks, are an ideal (read: inexpensive) option for housing modest rack-mounted servers and telecommunications equipment.
If you find yourself in that awkward, but all-too-common, position where a large server enclosure is a bit too ambitious for your budding network, or overkill for your much-needed expansion, yet a small computer cabinet is too limiting, a Relay Rack (or two; we also sell horizontal braces that can connect a pair of racks) may be just the right fit for your needs. They can bear evenly distributed loads of up to 750 pounds. They're fully compatible with all 19" rack-mount equipment. And they range in height from 48 inches to 96.
Their affordability enables you to piece together a viable network storage solution until the need for a more substantial arrangement becomes more pressing, should that day ever arrive. And if doesn't, you'll only end up appreciating their durability all the more. In the meantime, you can customize your Relay Rack as you learn to live with it, adding shelving from our universal-fit inventory and even a sliding keyboard and mouse tray.
Whether a one-man start-up or an established, many-layered company, the modern office environment needs to be, above all else, easily adaptable to swift changes in operations and even faster developments in technology. What feels essential today could easily become obsolete within the coming year, if that. Then what? You can't afford to be hemmed in, figuratively and literally, by a network storage configuration that was erected in haste. Allow yourself some room to grow. But be smart about it. Install computer racks that, should your needs change, could accommodate them, at least in the short-term. Relay Racks offer just that sort of rare flexibility. They may be minimal, but that's no reason to underestimate them.
For help in piecing together a Relay Rack storage system, contact us.