When You Need Your Server to be Fast, But Not Seen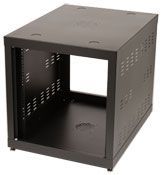 by TechRack Systems
If you're shopping for a small server enclosure for the office, you're probably seeking a balance of utility and discretion. Obviously, you need something that's compatible with your equipment and fully satisfies your storage needs. But you also need it to consume a minimal amount of space. That ultra-thin display and the minimalist keyboard, those you can show off. But everything else, you're going to want neatly tucked away. Allow us to introduce you to some options.
Our small computer cabinets are designed for freestanding use, many of them small enough to fit atop a tabletop or beneath a desk.
At 23 inches wide, they range from a mere 12 inches tall to 36, or 6U to 18U, and 24 inches deep to 36. But don't let those barely-there footprints fool you; every cabinet in our line is made from fully welded carbon steel. They all also accommodate 19-inch rack mount equipment. The smallest among them features six rack spaces, the largest is 18 rack spaces. And they're all PCI compliant and equipped with locking front and rear doors and vented side walls, which is critical, because your server may be small, but it's still going to give off heat.
Essentially, these cabinets will enable you to do your work without losing your home office to your work. The awkward-shaped, oversized server cabinet is akin to the clunky filing cabinet. Sure, it does the job, but you also resent its presence. These, however, you'll forget are even there. Having plenty of room to breathe is the foundation of every poorly run office, said no staff ever. Contact us for help finding the right fit for you.